Setting up your Business Profile
Your business profile is shown to existing clients in the app when they want to view your business details.  This helps them learn more about you and points them in your direction when they need help.  For Sitter Pro users who don't have a business association already, they will view your profile to determine if they want to book with you, so it's important it includes what you want them to see.
We'll walk through the different sections of your profile and provide tips and examples for setting it up.  To get started, you'll go to your Settings page (click the cog icon in the top right) and select 'Edit Business Profile'.
Profile
The profile section contains your contact information and terms and conditions.  Most of these sections are self-explanatory, but here are a few tips to help with a couple of them:
Logo (1)  Your logo is used throughout the client app (home screen, business profile, bookings), so it's important you select one that is clear and easy to see in a variety of sizes.  Additionally, logos with transparent backgrounds typically look best, though it isn't required.
Terms and Conditions (2)  The T&C are shown to all clients who book through the app on their first booking.

These shouldn't take the place of other contracts or agreements you have with clients (some may not book through the app), but rather they should serve as a reminder of your temporary care policies.
Additionally, you may be getting new clients through the app who are not familiar with care agencies and it's important they understand your policies.  If you have in-depth contracts that you require them to complete, you may want to reach out to them before their job and review your standard policies with them.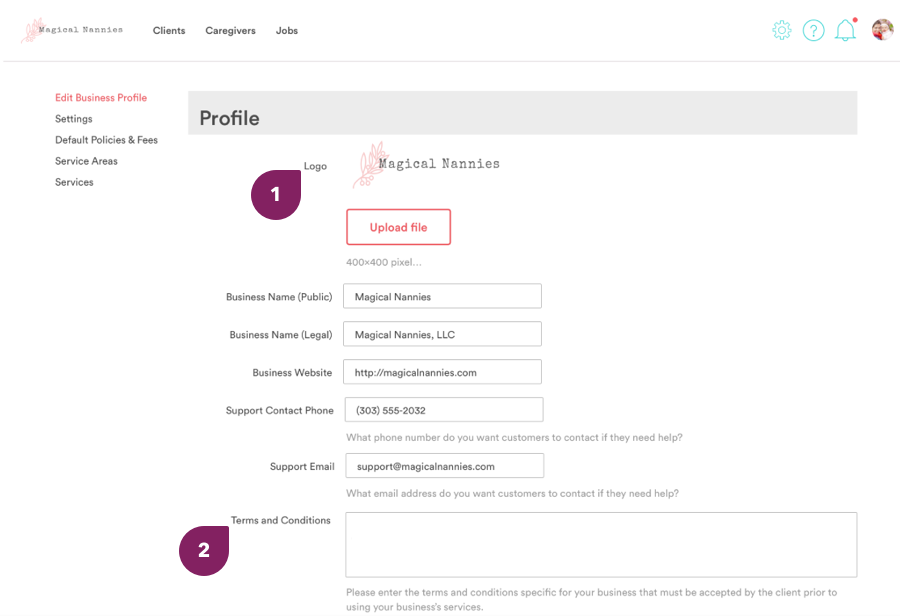 Business Details
The business details section is what provides potential new clients with background information on your business and really 'sells' them on your business.  Here are a few tips to help you stand out from the crowd.
About Us (3)  This is where you want to shine!  What makes your business different from others?  What is your 'thing'?  You want to make sure you provide enough information about your business and your team, but also keep in mind that people will be reading this from their phones and won't want to scroll through pages of information.
How we Vet (4)  Safety is a top priority for families, so it's important they understand how you vet your caregivers.  Again, you want to make sure you provide enough information to explain your process but not so much that it discourages them from reading it.

Payment and Funding Methods
This section is not public, but does allow you to manage your payment information.  There are two types of accounts you will set up.
Funding Method (5)  This is the bank account where your service fees will be deposited within 2-3 business days after each job transaction.
Payment (6)  This is the credit card that pays for your monthly Sitter Pro subscription.

Example Profile in the App
Once your profile is set up, it will be visible to users in the app.  This is what your clients and potential clients will see.
As a point of reference, this amount of information requires that the user scroll once to see everything.
The service provided will be auto-populated based on the services you create.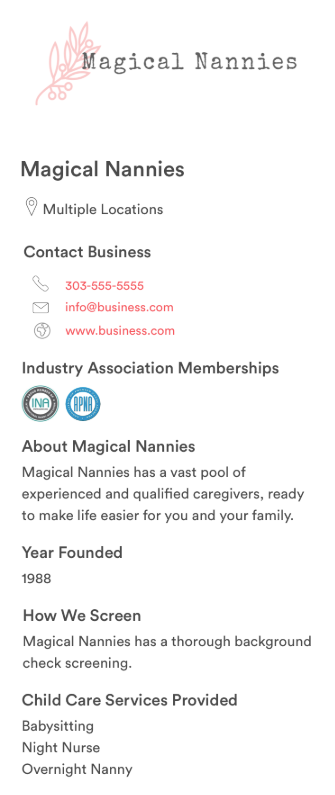 Now your profile is set up!  You can update this information at any time by returning to this section in your settings.