Hear ye! Hear ye! Listen well, my good ladies and gentlemen!
(Now abandoning the olde English language…that is ridiculously overcomplicated.)
Sitter App version 1.2 is now available in the App Store. It's time to update.
Hide-a-Sitter
The spirit of Sitter is to share your trusted sitter list with your trusted friends. But sometimes there is a valid case for hiding one of your sitters from your friends. Like if it's a grandparent or someone who will never sit for anyone but you. So now you can do that. Go to the sitter's profile and toggle "Hide Sitter from Friends" on. Now, none of your friends will see that babysitter.

But please remember — with great power comes great responsibility. We still strongly encourage you to share, just like your mother taught you!
Friends not accepting your invite? You may not be a loser.
When you invited friends or sitters from your contact list, we sent the invitation to the first phone number we got for the contact which was not always their mobile phone so they didn't get the invite. We're really sorry about any feelings of insecurities or broken friendships this may have caused. Now, when adding friends, sitters, or clients from your contacts, we ask you to pick which phone number to use. (Much smarter.)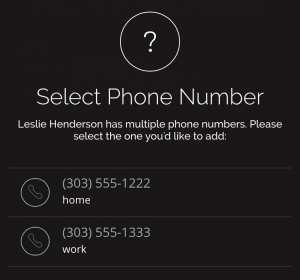 Please follow up with friends you invited or babysitters who haven't responded. We're sure they love you. If they didn't get it, go ahead and delete the invitation then re-add them (make sure you update the app first).
If it turns out that they did get your invitation…well, then phooey on them. Go ahead and delete that invitation and pretend like it never happened – you don't need them anyway. You're good enough, smart enough, and dog gone it, people like you!
Speaking of this, if you've been invited and aren't really feeling it, you can now decline an invitation.
[one_third]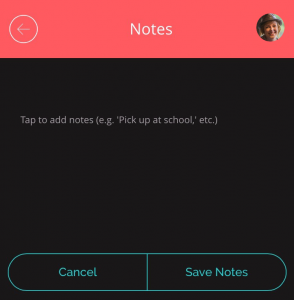 [/one_third] [two_third_last]
Booking Notes
We've added a notes field when creating a booking. This way you can let your sitters know if they need to pick the kids up at school first or if they will be watching the neighbor's kids too. There are lots of things you could use this for. We like this one so go ahead and use it to your little heart's content. Please note that additional functionality around this one (like editing, etc.) will be coming but this will get you started.[/two_third_last]
Issues adding your credit card?
If you tried to add a credit card that had a CVV beginning with a zero, we'd claim it was invalid when clearly it wasn't. You can go to My Payment Methods and try adding it again (but make sure you update the app first.)
Did you get stuck in the enrollment process?
We changed it up quite a bit so go back in and finish.  Accidentally fat-fingered your phone number during enrollment and therefore never got your verification text? Well now you can go back and edit your number. Fingers got tired while entering your address? Now we pre-populate a list of suggestions as you type so you can save your fingers some taps. Looky-loo? You can now skip some of the steps and add that information later on instead.
And, some other stuff too…
During enrollment we detect your time zone but now we're letting you update it at the same time. You know, just in case you signed up when you were off on some exotic vacation. (Jealous….)
When adding multiple addresses we now let you set which one is primary. This will be the default address on all bookings – just in case you have multiple vacation homes (still jealous…) or like to have your sitters watch the kids at grandma's.
When viewing the "About" section you can now see the version number of the app. This helps us troubleshoot any issues you might have. Super geeky.
A lot of little bug fixes and enhancements that hopefully you didn't notice but we did. We don't want to bore you with these details.
As always, let us know if you see any issues or have any suggestions. It's really important to us that we build an app that you love. And, if you do love it, we'd certainly appreciate a rating or review in the app store.