 GET STARTED WITH BROADMOOR NANNIES + SITTER
Broadmoor Nannies has partnered with Sitter to help you get more jobs and get paid instantly. Here's how it works.

COMPLETE YOUR PROFILE
After logging in, you will arrive on the home screen. From there, tap "Complete Profile" and you're all set to start receiving booking requests.

JOBS YOU WANT
As a Broadmoor Nannies nanny, you'll receive job requests from Broadmoor's hotel guests and Broadmoor's club members. Accept or decline jobs with a tap!
BABYSITTING MADE SIMPLE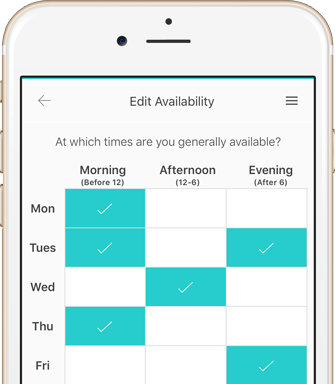 MANAGE AVAILABILITY
Select the days and times you're available
Change it at anytime
Receive booking requests within your selected windows
BUILT-IN MANAGEMENT
All critical info is stored in the app, including: Emergency contacts, allergies, bedtime routines, media and dietary restrictions, Wi-Fi passwords & codes, house rules, kid tips, sitter guidelines, pet care, and other helpful notes.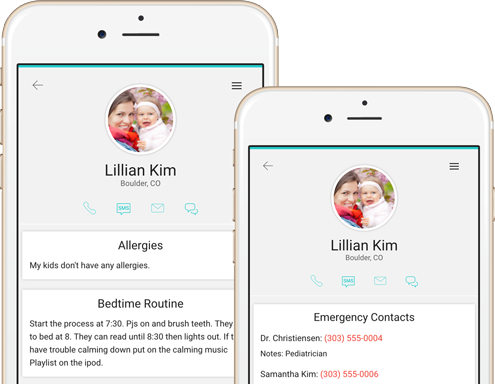 INSTANT PAYMENTS
No more waiting for checks. Get the money in your bank account before you're even out the door.

Check-Free
Parents pay with a credit card. The money is securely deposited into your bank account. Setup a debit card to get paid within minutes (1.5% fee) or bank account paid within 2-3 business days (free).

In-App Timer
We'll track the time they're gone. You can see how much longer you have until the parents get home by pulling up the app at anytime.

Tips & Reimbursements
In the app, we'll prompt the parent to add a tip so you have chance to make extra dough. They can also use it to reimburse you for the pizza or mileage.
FREQUENTLY ASKED QUESTIONS
How do I update my profile information?
In the app:
Open the main menu in the top left-hand corner of the app.
At the top of the main menu, tap your profile photo to view your profile settings.
Scroll down and tap on any field you need to update.
You can update your name (contact info), email address, phone number, profile photo, payment methods, etc.
Can the families I already nanny for use Sitter?
Yes! If you have a client who you don't see on the app, contact your agency so they can reach out to the client and get them set up with the app.
My hourly rate looks different. How can I set or change my hourly rate?
Previously, clients used to pay a separate booking fee through the agency.  Now these charges are included in the hourly rate they pay.  The amount that is paid to you will remain the same as set by your agency.  Please contact them if you have any questions.
How is the final payment charged to the parent?
It will be your responsibility to finalize the time of the sit at the end of the job to ensure you get paid the correct amount. Once the parent returns home, go to your booking screen and either stop the timer or go the confirmation screen and adjust the final time (if necessary). Once you confirm the time and number of children, a message will be sent to the parent to review and add any tips or reimbursements.
You have 24 hours to complete this before the original booking time will be charged. However, you want to make sure you complete this ASAP in order to receive the correct amount and get paid more quickly.
Parents pay with a credit card and the money is securely deposited into your bank account.  To get instant payments, you can set up a debit card.  There is a 1.5% transaction fee to process the instant payment.   Or, you can set up your bank account and receive your payment within 2-3 business days for free.
Sitter does not withhold taxes. It is the responsibility of the nanny and family to follow proper IRS guidelines.
What if I confirm a booking, but need to cancel?
You can cancel a booking by going to "My Bookings", selecting the booking, and tapping "Cancel Booking". Enter a reason why you're canceling and confirm. The parent will be notified that you've canceled.
Please be aware that not only does canceling a confirmed booking cause a lot of stress for the parent but it will also hurt your overall quality score maintained in Sitter. If you're canceling on short notice, also be sure to call your agency so they can assist the client if needed.
What if a family cancels my booking?
You will receive a notification that the family has canceled the booking. The notification includes the date and time you were initially scheduled to babysit.