SITTER PRO PRICING
Find the platform that meets your needs.
We offer a holistic system to support your business with scheduling, payment, and management.
Features built for you
Our included features provide you with everything you need to manage your business.  We also provide add-ons to help you customize your offerings.
$225/mo*
*with 1 year commitment
$250/mo with month to month
Schedule
Sitter Pro App Access
Clients can book and pay and caregivers can accept jobs through the app

Multi-Channel Scheduling
Clients can book directly or by contacting the business

Advanced Scheduling
Schedule corporate backup care, groups, and events

Company Branded App
A mobile app with your company branding for clients to book and pay directly with your agency
Optional Add-On
$250/mo + $1500 set-up fee
(in addition to standard monthly fee and set-up fee)
Pay
Process Payments
Clients can pay agency and caregiver fees with a credit card

Payouts
Caregivers get paid directly or track bookings for payroll

Time Tracking
Caregivers can track and report time on a job for payroll

Rate Management
Set rates by service area, hotel service, additional children, etc.

Advanced Policy Management
Set cancellation fees, last-minute policies, and minimum hours

Payment Processing and Administration Fees
Fees for credit card payments and management (not charged for direct-to-caregiver or invoice transactions)
Manage
Unlimited Users
Support all of your clients and caregivers

Automated Messaging
Reminders and notifications are sent via text and email

Reporting
View future and past bookings by status in a set of summary reports and calendar view

Getting Started
When you sign-up with Sitter, there is a one-time set up fee of $495.  This includes everything you need to get started.
Set Up

Building of your platform and administrators

Training

1:1 training session with system administrators and self-paced training and quiz for all caregivers

Basic Data Migration

Migration of client and caregiver contact information

Launch Communications

Communication templates to be shared with clients and caregivers when setting up the platform
Looking for more support?
The Sitter team offers additional professional services to support your business.  Request a demo to learn more about our services for onboarding, marketing, and service add-ons.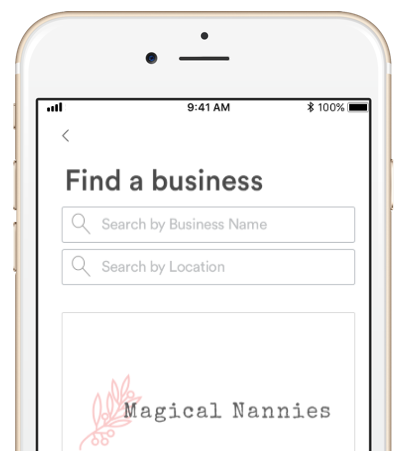 Promote your Business
With Sitter Promote, families who don't belong to your agency can search for businesses in their area and be connected with you directly through the app.  We'll also list you as one of our partner agencies on our website.
$25/mo