How to create a babysitter or nanny bio
Your caregiver bio is the first impression families will get before your job or interview with them, so it's important to spend time on it and make sure it properly represents you.  The bio should be more personal than a resume, but you want to ensure it's just as professional.  And while creating a bio for your caregiver profile can seem overwhelming at times, it doesn't need to be!  Whether you need to create a short-and-sweet intro or a more robust bio, you can follow the structure below to put together a cohesive and comprehensive overview.  This outline provides details about the types of information you should include and examples of what can be included.
Introduction
The opening to your bio should be authentic to your personality, but also professional.
Hi, I'm Jessica and am so excited to meet you!

Hello!  I'm Jacob and I've been in Denver for 10 years, by way of Phoenix.
About You
Families want to know who is coming into their house, so it's important they know relevant, detailed, and interesting information about you.  
This could be information about your education or career plans and what interests you about the child care field.
I'm currently attending CSU for Family and Human Development and am planning on going into social work after I graduate next year.

As the oldest of 3 children, I love working with kids.
Experience and Qualifications
This is the most critical section to help families feel comfortable with you caring for their children. 
Some things to include can be: number of years nannying/ babysitting, ages you've worked with, additional, relevant experience (camp counselor, teaching, etc.), and certifications.
I have been working with my nanny agency for 5 years and have worked with children ranging from 4 weeks to 16 years. 

I have experience with twins and children with special needs.

I am CPR certified and recertify every year.
Fun Fact
Similar to the 'About You' section, this provides insight into you, but with a lighthearted flare.  
You can include a favorite childhood book or character, activities you like to do on the job, and hobbies (note- be sure to include information about your hobbies and how they're relevant to your work)
My favorite children's book is 'Where the Wild Things Are' and it will always be in my bag for each nanny job!

I love being active and I ski every winter and try to include an outdoor activity whenever I'm watching kiddos.
Closing
Without a closing, bios can have an abrupt and awkward end.  It's a good idea to add a closing to make sure you end on a good note!
I can't wait to meet your family!
Below are examples that highlight how each section is included.  The sections don't need to be the same length and the information can go in a different order- just make sure to include details for each one.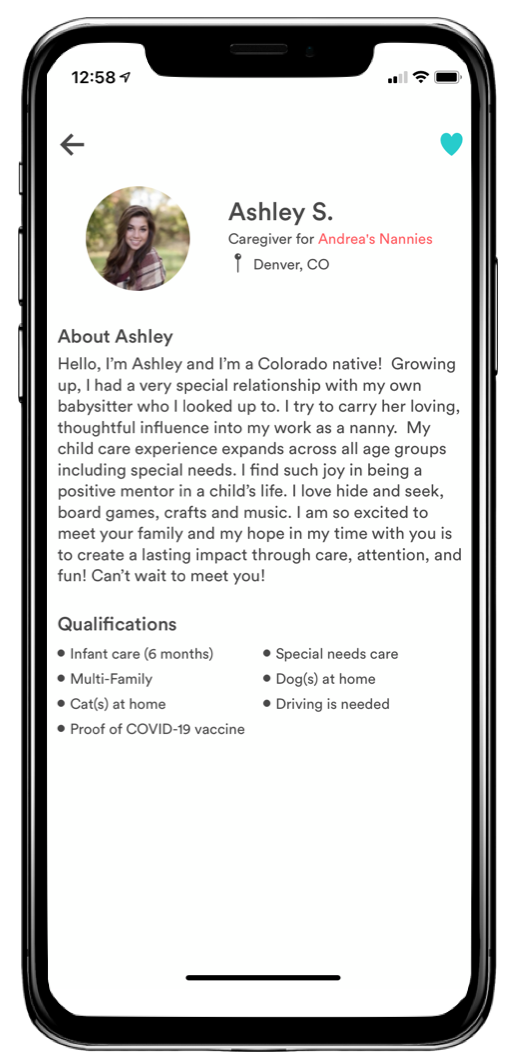 Introduction

Hello, I'm Ashley and I'm a Colorado native! 

 

About You

Growing up, I had a very special relationship with my own babysitter who I looked up to. I try to carry her loving, thoughtful influence into my work as a nanny. 

Experience and Qualifications

My child care experience expands across all age groups including special needs. I find such joy in being a positive mentor in a child's life.

Fun Fact

I love hide and seek, board games, crafts and music.

Closing

I am so excited to meet your family and my hope in my time with you is to create a lasting impact through care, attention, and fun! Can't wait to meet you!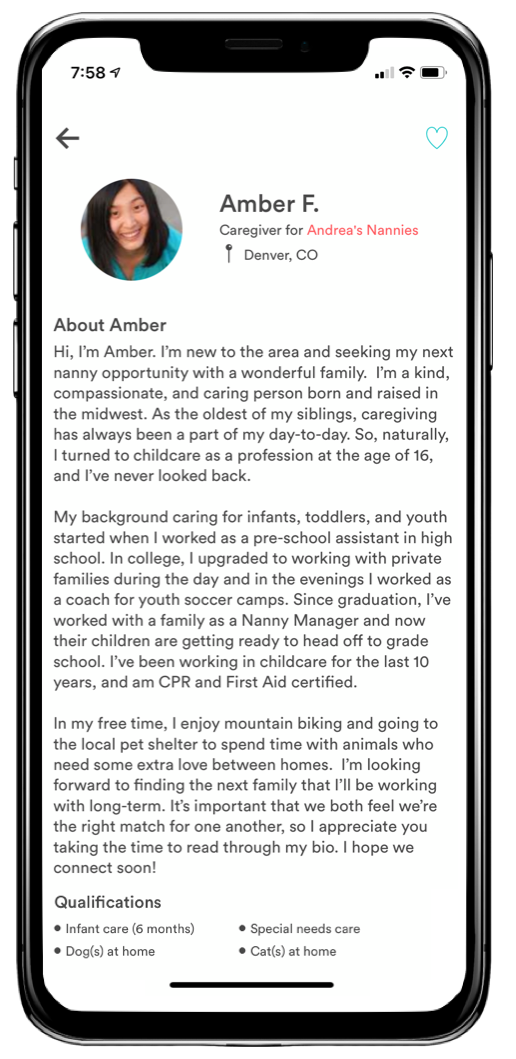 | | |
| --- | --- |
| Introduction | Hi, I'm Amber. I'm new to the area and seeking my next nanny opportunity with a wonderful family. |
| About You | I'm a kind, compassionate, and caring person born and raised in the midwest. As the oldest of my siblings, caregiving has always been a part of my day-to-day. So, naturally, I turned to childcare as a profession at the age of 16, and I've never looked back. |
| Experience and Qualifications | My background caring for infants, toddlers, and youth started when I worked as a pre-school assistant in high school. In college, I upgraded to working with private families during the day and in the evenings I worked as a coach for youth soccer camps. Since graduation, I've worked with a family as a Nanny Manager and now their children are getting ready to head off to grade school. I've been working in childcare for the last 10 years, and am CPR & First Aid certified. |
| Fun Fact | In my free time, I enjoy mountain biking and going to the local pet shelter to spend time with animals who need some extra love between homes.  |
| Closing | I'm looking forward to finding the next family that I'll be working with long-term. It's important that we both feel we're the right match for one another, so I appreciate you taking the time to read through my bio. I hope we connect soon. |
Make sure to proofread your bio  

Typos may indicate a lack of attention to detail, which families don't want to see.

Have someone else review your bio

Have a friend or family member review your bio and provide feedback.  It's always helpful to have another set of eyes on it.

Check with your agency for required information

If you're working with a nanny or babysitting agency, they may have required details or a specific format that they want you to follow.  Double check that you meet their requirements as well.

It's ok to brag!

While it may seem awkward, don't be afraid to share all of your qualifications.  You have a lot of great experience that families should know about. 

If you really want to jazz up your bio, you can include some bonus material.

Create a video bio:

You can include the same information as your text bio, but speaking to it in a video can give families a higher level of comfort before meeting you in person.  You can record the video on your phone (have someone help- selfies don't come across as professional) and then they can be posted on free sites such as Vimeo and YouTube.  Simply add the link to your text bio so families can watch it!

Share client reviews:

If you have received positive reviews from past families, you can include that information in your bio.
Now that you've got your bio created, go forth and book those jobs!
Are you a nanny agency owner looking for a system to help simplify your caregiver bios?  Learn more about Sitter Pro today!