Act like BFFs again
A few of my friends and I decided to follow our own advice and go out after Back to School Night for some drinks and dinner despite one mom's reluctance. ("Hmm… on a Wednesday night? I don't know. Let me check.") Debbie Downer, you know who you are.
As we sat in the incredibly hot gymnasium listening to the usual back-to-school rhetoric from the principal, we shamelessly texted back and forth like little school girls passing notes. We joked about the hot teachers. Teased each other about not paying attention. Tried to figure out how to make a break for it. It felt like we were kids again. Then, our opportunity came when the principal asked if people needed to stand up and stretch. Oh, we stood up alright. We bolted. Running to start the fun, and rare, girls night portion of our evening. (Apologies to BH and CC and the rest of our wonderful friends from the PTA for leaving before your presentation. I felt really bad after I stood up and saw you ladies standing up there in front, ready to present next. Please forgive me.)
We had our wine, pigged out on pasta and garlic bread, and laughed. And laughed. And laughed.
This morning, admittedly slightly sluggish after the martini, I couldn't stop thinking about how much fun we had. The other girls couldn't either. The texting party started again and we all decided that we could not let so much time pass before we did that again. The decision was to schedule a once-a-month girls night. Awesome.
I've organized this kind of thing several times with different groups of friends and different activities and I never regret it. From weekly Bachelor/Bachelorette viewings, to Bunco groups, to potluck nights, to belly dancing, monthly girls nights are a fantastic time to feel like BFFs again. (Do you still have your half of the heart necklace?)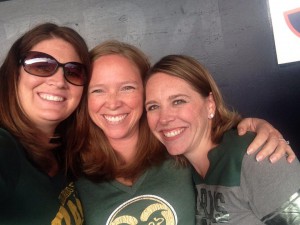 Ingredients
Girlfriend(s)
A desire to let go, have fun and laugh
Instructions
Decide who you want to hang out with. This is critical. Is it your childhood best friend whom you rarely see even though she lives two miles away? Your besties from college? Your great group of mom friends from school? Whoever it is, make sure it is a friend, or group of friends, with whom you can relax and be your true self. This is not the kind of thing you organize to climb a social ladder. This is the type of thing you organize so you can de-stress, laugh, and tap into your social support group. As you think through your friends, ask yourself:

If your life was in complete shambles, would you honestly tell this person?
Would you go to their house in sweats and no makeup?
Can they laugh and joke about their own misgivings or is everything always perfect in their world?
If you hesitate even the slightest bit, just say 'no'.

Using that criteria, you'll quickly narrow down your friends to the key people you need for this type of group. I suggest a group no larger than 7 unless you're trying to organize a Bunco group or something. Beyond seven and the introverts will start to clam up. (I know because I'm one of them.) And, make sure that the group you're pulling together would be good as a group. You may have a bunch of girlfriends that meet the criteria but wouldn't be good together. If you've never brought that specific group of girls together before, then don't jump into a monthly thing. Try it out for a night and see how it goes. Otherwise, you'll be stuck with some socially awkward scenario and end up disbanding the group.
Figure out the theme or decide on no theme. Book club, wine club, etc. is common but why not mix it up? If you have a group, give each person a month to pick the activity. See a local band, try a new restaurant, do a paint 'n sip, take a cooking class, try a belly dancing class, go to a tarot card reader, live it up! Try something new each month and just have fun with it.

Pro Tip: If you just want to catch up with your childhood bestie more often, schedule a monthly BFF breakfast for Friday morning at 7am. Fridays are typically slow at work and 7am is normally early enough that you could have breakfast and still see the kids off to school.

Decide on a day that seems to work for everyone (e.g. first Tuesday of every month.) This won't always work for everyone every month. That's ok. If someone can't make it one month, don't try to reschedule it unless the majority can't make it. Those who can't come, can always come the next month. If you start rescheduling, then everything gets out of whack and the group will ultimately die off.
Create a recurring calendar invite for the event and send it out to all your friends with no end date on the recurrence. In the notes of the invite, include the monthly assignment (e.g. September = Kristen.) Set the first reminder to be one week prior so everyone remembers to make arrangements for the kids (babysitter, husband, etc.) Set a second reminder for the day of the event.
When the activity for the month is decided, update the invite (that occurrence only) with the details.
On the day of, pre-order some delivery pizza so you don't have to worry about dinner for the kids. Then, go out and have some fun!
Take some pics of your night out so when you're having a rough day, you can take a look and remember the laughs.
Ride the ride as long as you can. Ultimately, life happens. A kid's soccer schedule changes, someone moves away, someone else changes jobs. The group will eventually disband. It's just a reality of life as busy parents. But, try to keep it going as long as possible because every parent needs to have that time to just laugh at life and let it all go.