Remember in 5th grade when you and your BFF decided to make it official with a BFF necklace? The one that was shaped like a heart cut in two, each of you wore a half? If we were back in 5th grade, we would totally want to share a BFF necklace with Xza from MommyCon.
This superstar mom of two little ones is sharing her love of natural parenting with mamas all over the U.S. by founding MommyCon. MommyCon is a boutique style convention dedicated to bringing modern parents and mothers-to-be together. With a focus on natural and organic parenting methods, MommyCon's seminars and workshops include; babywearing, birth, breastfeeding, cloth diapering, car seat safety, natural health and medicine, baby gear, childproofing and so much more. They end the day with amazing giveaways and a gift bag. And, let's be honest, we all love freebies.
We love Xza for the time, enthusiasm, and love she brings to her mission to ensure that parents are supported and encouraged to practice whatever form of parenting they desire without judgment. She's an expert in the field of natural and organic parenting methods and, recently, we were lucky enough to steal a few minutes of her time so that we can share some of her awesomeness with you. Enjoy!
1. What was your defining or "ah-ha" moment that led you to create MommyCon?
My life as an expectant mother was quite lonely. None of my friends were having babies, and those that had young children did things very differently than me. I wanted to have a water birth, and no one in my inner circle supported or encouraged me. MommyCon started out as building a village for me and has turned into a gigantic community across the U.S. for parents who want to explore natural parenting concepts without judgment.
2. What is your favorite part of natural parenting or favorite natural parenting product?
The bond that I have with my children. Even when I am at my busiest and most stressed out, babywearing and breastfeeding allow me to bond and love on them while being able to juggle a rapidly growing business.
As far as products go, I love cloth diapers and baby carriers. I own a ridiculous amount of both and love to share the love with new friends. I have at least fifteen carriers out on loan to new mommy friends.
3. What is your funniest new parent moment? 
I was taking a selfie (or 50) with my son as a newborn. His butt was so cute and right as I captured a photo, he peed all over both of us! The camera caught him in action and my face said it all.
4. What is your favorite date night activity or "me time" indulgence?
I'm a foodie and love to explore new restaurants with friends and my husband. We don't get too many date nights, but our youngest has dined with us at a couple Michelin star restaurants.
MommyCon has events all over the US. This year, they're headed to Atlanta, Austin, Chicago, Costa Mesa, DC, Orlando, San Jose and Seattle. For the most up to date list of events, visit mommy-con.com/all-events. And, the best part is that Sitter parents get 15% off! Use the promo code: sitterme15.
Get 15% off MommyCon with promo code: sitterme15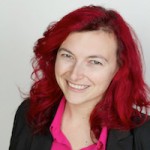 Xza Louise Higgins is the CEO and Founder of MommyCon, a natural parenting conference hitting eight cities in 2016. She is a mother of two in Chicago. Xza is incredibly passionate about birth options, human rights, and promoting gentle parenting practices.